Uss Iwo Jima LPH-2 - History
USS IWO JIMA (LPH-2), the first ship designed from the keel up as an amphibious assault ship was launched September 17, 1960 at Bremerton, Washington and commissioned on August 26, 1961. The ship carried a squadron of 24 Marine helicopters plus a Battalion Landing Team of 1500 Marines.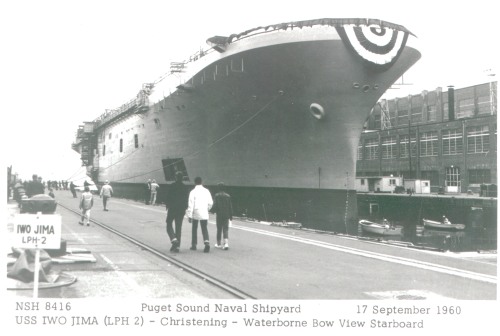 The primary mission of IWO JIMA as an amphibious assault ship had been to transport Marine forces, their equipment and supplies, and land them anywhere in the world anytime those forces were needed.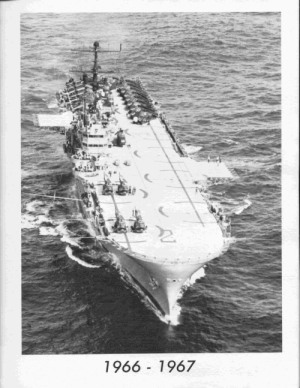 Iwo Jima with a white flight deck
Other missions performed by IWO JI MA have been mine countermeasures, search and rescue, refueling of other ships as the need arose, and evacuation of American Civilians and those of friendly nations from hostile territory. Because of her large sick bay, operating rooms and 100 bed hospital, IWO JIMA was normally designated the primary casualty receiving ship when operating in a task force.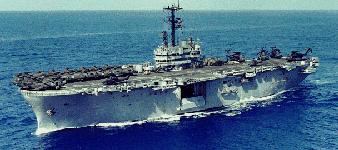 IWO JIMA'S initial homeport was San Diego, California. In 1962, from April to August, as part of JTF-8, the ship participated in high-altitude nuclear tests at Johnston Island. It was originally scheduled for six weeks , but due to several problems with the tests, it turned out to be almost 4 months. Iwo Jima's main duty during the tests was to evacuation of non-essential personnel from Johnston Island during a test and then returning them to the island after the test.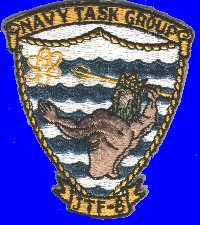 After the nuclear tests, Iwo Jima was part of a 21 ship squadron that was moved through the Panama Canal to the Caribbean during the Cuban Missle Crisis. The ship steamed in a square south of Puerto Rico for about six weeks on a standby basis in case an invasion of Cuba was ordered.
In August 1963 she made her first deployment to the Western Pacific, one of six deployments the ship would make to that area. During each deployment, IWO JIMA played an active role in Southeast Asian operations by participating in over 30 amphibious landings in Vietnam through May 1971.
Thanks to Ken Hamman, (1965-1967), for providing the following photographs of operations during the 1965 deployment to Vietnam.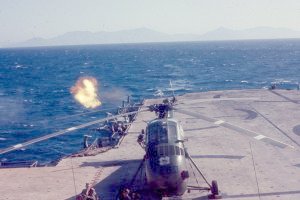 Shore Bombardment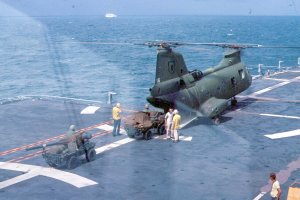 Flight Ops off the coast of Vietnam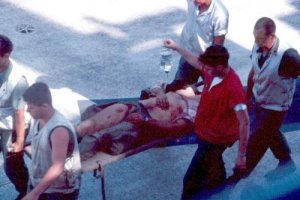 Wounded Marine arriving on Iwo's flight deck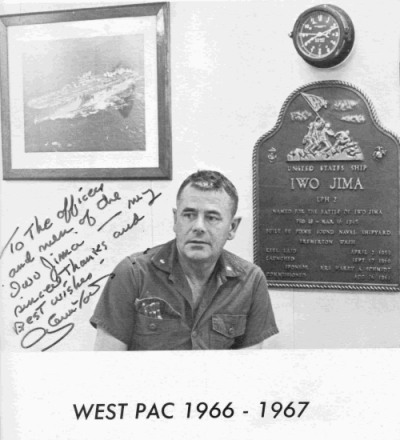 Glenn Ford USNR aboard Iwo for reserve cruise while filming a documentary on the Viet Nam War.
During the summer of 1966, Company D, 1st Batallion, 26th Mairines operating from the USS Iwo Jima were involved in Operation Deckhouse IV in Viet Nam.
The following pictures and clippings are courtesy of Tom Howard who was attached to Company D and wounded during the operation.
In April 11,1965 the IWO JIMA departed San Diego bound for Pearl Harbor transporting 77 Army Hueys, (UH1 D model) in protective cocoons, all their equipment and troops, including A Co.101st Aviation Batallion, 101st Airborne Division. Enroute, the birds were assembled with the flight deck crew helping to put on the main and tail rotors. The preservative was flushed out of the engines, fueled and ready to fly off upon arrival. On arrival in Pearl, the word was passed that the Iwo with the Hueys was bound for Viet Nam. Marines were loaded, and the ship departed Pearl. There were a lot of seasick soldiers during the entire trip. The IWO arrived at St. Jacques, Republic of Vietnam, flying off the 77 Army helicopters loaded with troops and combat cargo on 1-2 May. From there IWO sailed to Subic Bay, Phillipines where troops and equipment were loaded for amphibious landings at Chu Lai, Vietnam on 11 May 1965.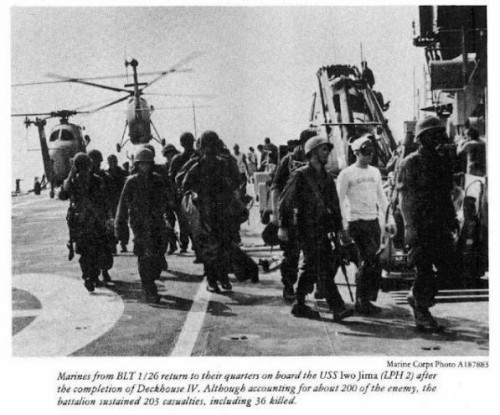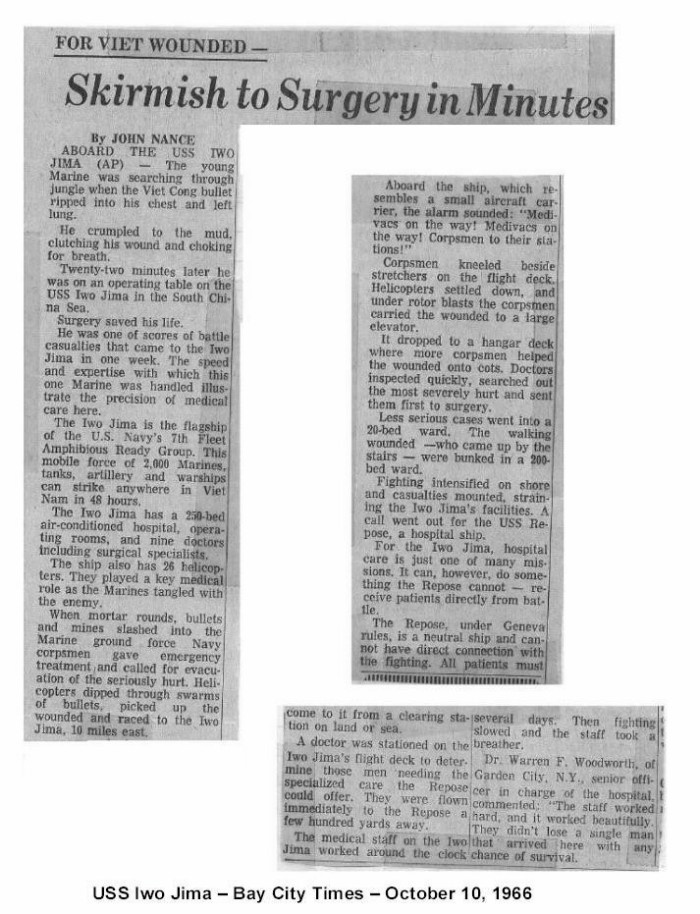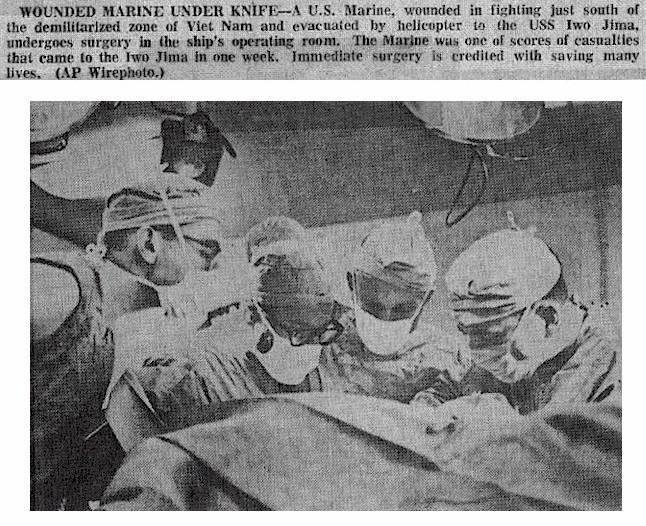 July 1965 to August 1965, while operating from the west coast, IWO JIMA served as the flagship during the salvage of the grounded USS FRANK KNOX (DDR-742). She was also assigned as the primary recovery ship for the Apollo XIII mission in 1970.
In May 1972, IWO JIMA departed San Diego bound for her new homeport of Norfolk, Virginia. Six weeks after arriving on the East Coast, IWO JIMA departed for her first Mediterranean deployment. IWO JIMA returned to Norfolk in January 1973. Later in 1973, IWO JIMA received the Arleigh Burke Trophy as the most improved ship in the Atlantic Fleet.
From 1973 to 1992, IWO JIMA made twelve Mediterranean deployments, a Northern Europe deployment and participated in many amphibious exercises. Some of the high points over the years were:
1973- Received the Arleigh Burke Trophy as the most improved ship in the Atlantic Fleet.
1973-1974- Operations Nimbus Star and Nimbus Moon involved the clearance of mines and other unexploded ordnance from the Suez Canal and its approaches by US and allied forces during the 1973 Arab-Israeli conflict. In reaction to the Middle East crisis between Israel and Egypt in October 1973, USS Iwo Jima (LPH-2) deployed fully loaded, more than a month early, and with only five days notice. While deployed, she participated in Task Force 65 NIMBUS STAR / NIMBUS MOON, an operation to clear mines from the Suez Canal. In May 1974 a twelve-unit detachment of RH-53D Sea Stallions from NAS Norfolk's Helicopter Mine Countermeasures Squadron TWELVE [HM-12] began minesweeping the Suez Canal as part of Project NIMBUS STAR.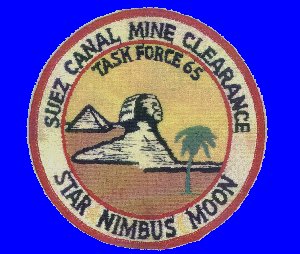 1976-On her fourth Mediterranean deployment, IWO JIMA participated in the evacuation of civilians from Beirut, Lebanon.
1976-Conducted the first shipboard trials for the CH-53E Super Stallion helicopter, the largest helicopter of its type in the free world.
May 1979- Hosted the Bob Hope Brithday special in New York City.
1982-IWO JIMA again selected as the Atlantic Fleet Arleigh Burke Trophy winner for the cycle ending in March 1982.
1983- From May to December, off the coast of Lebanon, IWO JIMA provided command control and logistic support for the U.S. contingent of the Multi-National Peacekeeping Force. While there, IWO JIMA also provided medical support to the Marines wounded in the tragic bombing of the Marine barracks in Beirut. See Beirut Online in the Links section.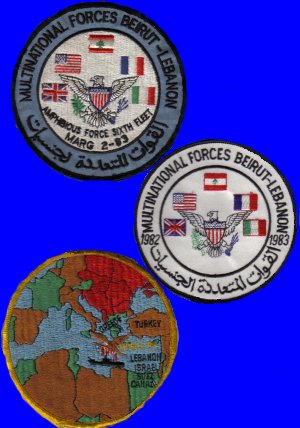 1986-In July the ship entered the Norfolk Naval Shipyard for a regular overhaul (ROH), returning to operational status in March 1987.
1990-In August, only two weeks after the initial deployment of troops to the Persian Gulf for Operation DESERT SHIELD, IWO JIMA became the first amphibious assault ship to deploy to a sensitive area. During DESERT STORM the ship took part in deception maneuvers meant to make the Iraquis believe that an amphibious landing was about to take place which held some of their forces to defend against that eventuality. Tragedy struck on 30 October, 1990 when IWO JIMA suffered a high pressure steam valve sustained a catastrophic mechanical failure that cost the lives of 10 of its crew but repairs kept her fully operational. A steam turbine valve in the fireroom sustained a catastrophic mechanical failure. This failure resulted in the release of superheated steam at a temperature of 850 degrees Fahrenheit in the fireroom. The shipmates that lost their live in this tragic accident were: LT John Mather Snyder, MPA, BT1 Robert Lee Volden, BT2 Mark Edward Hutchinson, BT2 Fred Russell Parker Jr., BT3 David Alan Gilliland, BTFA Daniel Clayton McKinsey, BTFA Tyrone Anthony Brooks, EM2 Daniel Lupatsky, MM3 Michael Nunnally Manns Jr., and MM3 James Arthur Smith Jr.The ship spent the next six weeks undergoing repairs in Bahrain. With the tragic loss of their shipmates weighing heavy on their hearts, the men of IWO JIMA pulled together to make the necessary repairs and continue on their historic mission in the gulf.
1992-From July to November, IWO JIMA sailed in the Adriatic off the coast of former Yugoslavia, providing search and rescue support for U.N. flights as part of OPERATION PROVIDE PROMISE. The ship also provided medical support to USS SARATOGA and the Turkish destroyer MAUVENET after an unfortunate missile-firing accident.
1993-IWO JIMA was decommissioned Norfolk, VA 14 July 1993. The ship was towed the next day ,15 July, to ISMF Philadelphia by Grapple (ARS 51), and arrived next day for storage and stripping prior to sale. Ship was Stricken on 24 September 1993.
1995-Ship was sold on 18 December 1995 to Rig Ventures, Inc., Brownsville, TX for $144,000.00. Sale # 31-5168. The IWO JIMA was towed 15 February 1996 to another site. The contract with Rig Ventures was eventually cancelled and the hulk was sold as scrap in August of 1996 for $140,000 to Mystic Shipping and Trading Co. She was then towed to a scrapyard in Brownsville. TX. The island structure was removed and bought by the Texas Air Museum in Rio Hondo, Texas. It was disassembled and then reassembled. But in 2006 the museum could no longer afford to maintain the island and it was sold to The Museum of the American GI in College Station, Texas. The island has been moved to the Museum property and will be reassembled once again. The web site for the Museum is: http://www.museumoftheamericangi.org
15 February 1996


While commissioned,, IWO JIMA had been awarded the Admiral Flatley Award for aviation safety four times. The ship received many Battle Efficiency Awards for excellence in operations, amphibious assault, communications, aviation maintenance, damage control and surface-to-air missile and gunnery exercises.
Awards
Combat Action Ribbon (2 awards)
Flately Award for aviation safety (4 awards)
Arleigh Burke Fleet Trophy (2 awards)
Numerous Battle Efficiency (Navy "E") awards
Navy Unit Commendation (2 awards)
Meritorious Unit Commendation (5 awards)
Navy Expeditionary Medal
National Defense Service Medal (2 awards)
Armed Forces Expeditionary Award (8 awards)
Vietnam Service Medal
Southwest Asia Service Medal
Armed Forces Service Medal
Humanitarian Service Medal
Numerous Sea Service Deployment Ribbons
RVN Gallantry Cross w/Palm Unit Commendation
RVN Campaign Medal
Kuwait Liberation Medal (Saudi Arabia)
Kuwait Liberation Medal (Kuwait)
Specifications

Power Plant
Two boilers, one geared steam turbines, one shaft, 22,000 total shaft horsepower
Length
Overall Length: 598 ft Waterline Length: 556 ft
Flight Deck Width
104 feet (31.2 meters)
Beam
84 feet (25.2 meters)
Draft
Maximum Navigational Draft: 29 ft . Draft Limit: 30 ft
Displacement
Light Displacement: 13465 tons Full Displacement: 19395 tons :Dead Weight: 5930 tons
Speed
23 knots (26.5 miles per hour)
Crew
Ships Company: 80 officers, 638 enlisted. Marine Detachment: 1,750
Armament
2-Twin mounted 3"50 cannons

2-Basic point defense surface to air missile systems

2- 20mm Phalanx CIWS
Unit Operating Cost -Annual Average
~$32,500,000 [source: [FY1996 VAMOSC]