USS Guam Plaque
On Saturday, May 10th, the USS Guam LPH9's Plaque was dedicated at the US Navy Memorial. Present for the ceremony were Frank Walker, Joe and Sharon Keidel, Jeff and Marjorie Kaiser, Brain and Diane Mills, John Coburn, John Mumper, and Kevin Hughes. Our host Rear Admiral Richard Buchanan USN (Ret) gave a presentation about our ship, the USS Guam, and about the Navy Memorial. Guam Association president, Frank Walker, gave a small speech thanking those present. On behalf of the USS Guam Association, I would like to thank the members and their wives who were present for the dedication and to all our shipmates and friends who donated to the ships plaque fund raiser that made this possible. Joe Keidel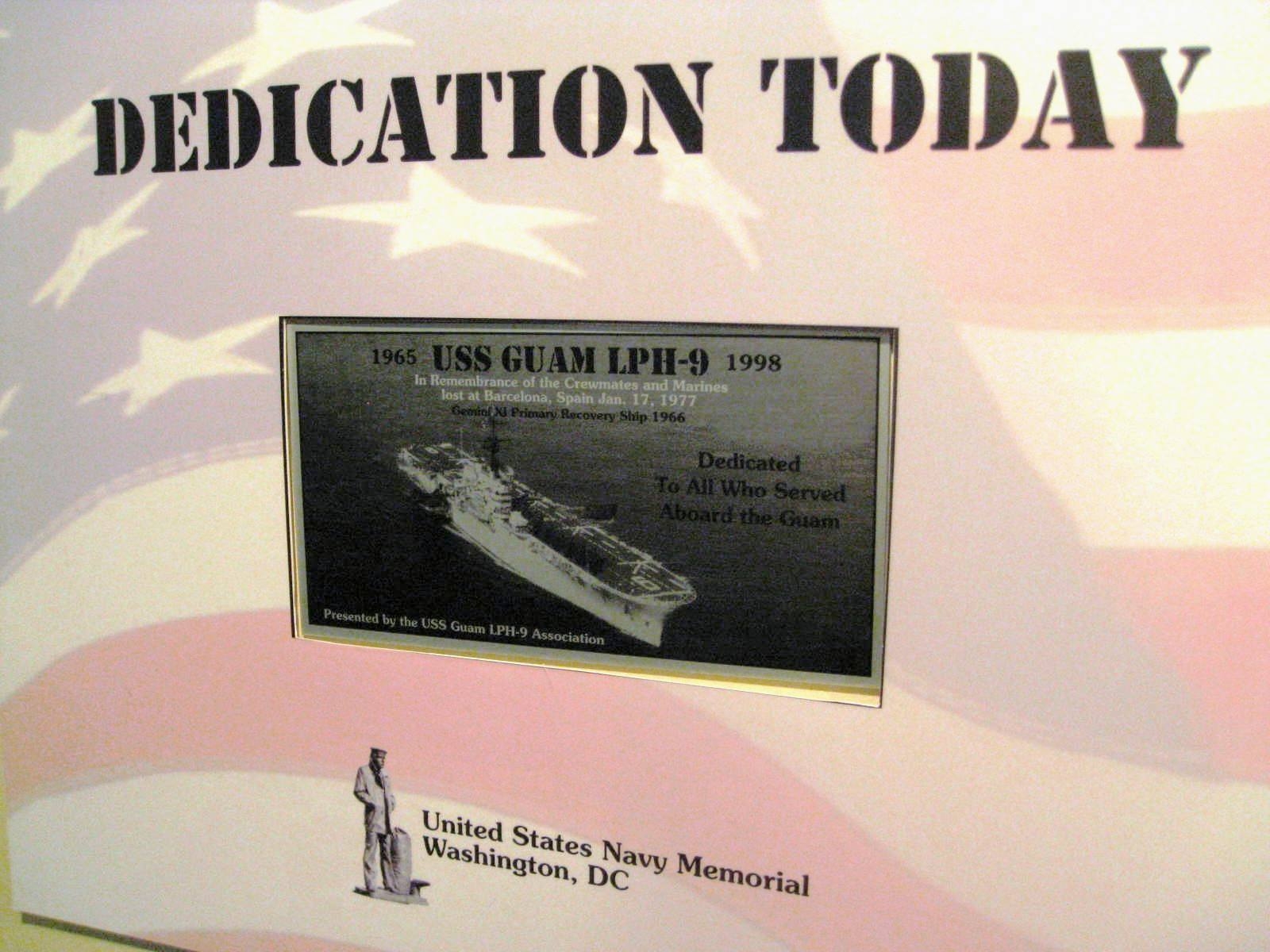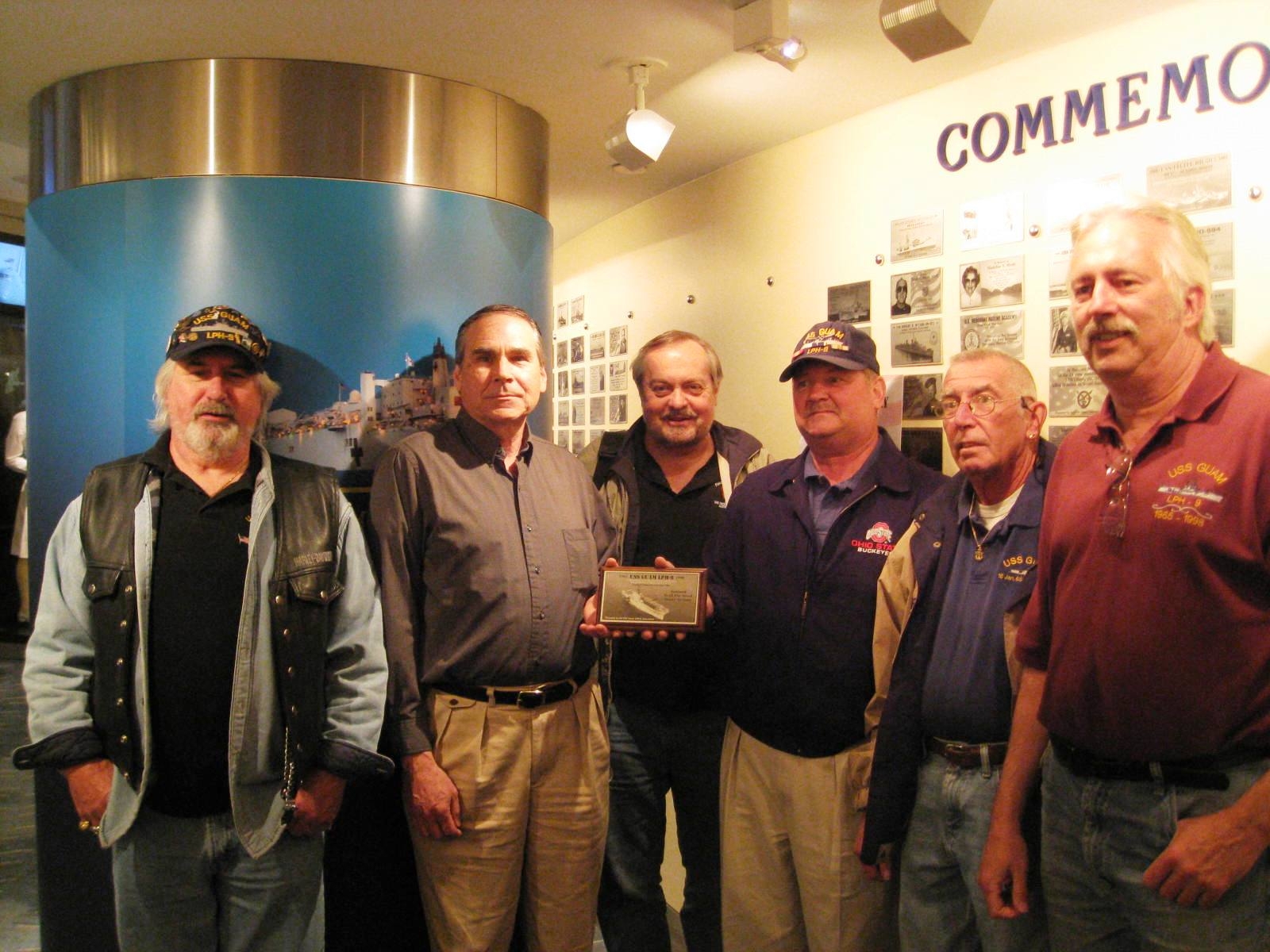 A special thanks to the people whose contributions have made this possible: Jeff Kaiser, John Baldwin, Allen Atherton, Dick Hamann, Thomas Sintkowski, James Garner, Matt Pohl, Michael Eisenberger, John Holland, John Mumper, Kenneth Semmler, Michael Phelps, Jim Webb, David Crawford, Alen Geopfarth, Jose Yrizarry, Timoteo M. Saguinsin, Bob Kelly, Robert D. Kelleher, Lloyd "Joe" Keidel, Samuel P. Clarke, Michael Ball, Francis "Frank" Walker, Owen Hardage, Robert Mathews, Garland "Gar" Braniger, James Parker, Rich & Rose Zeimet, Danny Brown, Edwin H. Bishop Jr., and Miguel Molina.
Guam Bell
This section is broken up into various scanned images of documentation for the cermony that occurred when giving the Guam Bell back to the island of Guam.
1965-66 LPH-9 Cruise Book (thanks to Jim Adams)
History of the USS Guam LPH 9
During her 33 years, covering four decades, the amphibious assault ship USS Guam (LPH 9) saw and participated in many history making and shaping events. From recovering the astronauts from Gemini XI, to combat operations in Grenada to her deployment to the Persian Gulf in support of Operation Desert Thunder, Guam served the Navy and America proudly.
Guam's life began when its keel was laid on November 15, 1962. She was launched on August 22, 1964, and christened to commemorate the battle and U.S. capture of the Island of Guam in WW II. The christening sponsor was Mrs. Vaughn H. Emory Greene, Jr. The Guam was Commissioned on January 16, 1965. The ship was designed to transport 2,000 fully equipped Marine assault troops into combat areas and land them by helicopter at designated inland points. This modern amphibious technique of vertical envelopment, pioneered by the Navy and Marine Corps team, exploits flexibility and surprise.
The USS Guam's first commanding officer was Captain Norman E. Thurman of Warrensburg, Missouri. He served as a dive bomber pilot in the Battle of Guam. Captain Thurman has since passed away.
The Guam was deployed as the primary recovery ship for the Gemini XI mission. Astronauts Cmdr. Pete Conrad and Lt. Cmdr. Dick Gordon were recovered 710 miles east of Florida on September 15, 1966. The re-entry into the atmosphere was visible to the entire crew of USS Guam and three U.S. Navy helicopters were "on top" with swimmers in the water less than one minute after splashdown.
In June of 1970, Guam was ordered to Peru, where a disastrous earthquake had decimated the area. For nearly two weeks the embarked squadron flew hundreds of mercy missions delivering food, tents, blankets and medical supplies ashore, and returning the most seriously injured to Guam for medical treatment. Guam later made a port call in Lima, where over 5,000 grateful Peruvians visited the ship during her two-day stay.
In November 1976, Guam departed Norfolk for Kenya, via the Mediterranean. After transiting the Suez Canal on December 12, Guam launched 13 AV-8 "Harriers" to Nairobi, Kenya, for a fly-by celebration of Kenya's 13th year of Independence.
Upon returning to the Mediterranean in January, 1977, Guam made a port visit to Barcelona, Spain. During this visit, catastrophe befell the crew of the Guam. While returning to the ship after a night of liberty, a liberty launch was struck by the Spanish freighter Urlea. Forty-nine crewmen from the USS Guam and the USS Trenton (LPD 14) were lost in this tragic accident. The monument that stands in their honor was rededicated at a formal ceremony during Guam's most recent and final visit to Barcelona, in January, 1998.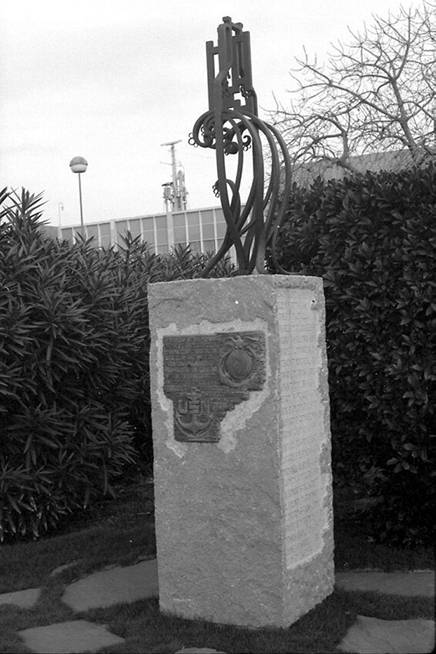 While deployed to the Mediterranean in May, 1982, Guam was sent to the coast of Lebanon to prepare for the possible evacuation of non-combatants during the war between the Israelis and opposing Palestinian and Syrian forces. Guam participated in the evacuation of over 600 Lebanese, Americans and third world country nationals from Juniyah, Lebanon, a city north of Beirut. In August, Guam landed Marines in Beirut as part of a multi-national peace keeping force which included French and Italian troops. Guam participated in the evacuation of Palestine Liberation Organization (PLO) guerrillas from Beirut.
In October 1983, while enroute to the Mediterranean Sea, Guam's task force was diverted to the island nation of Grenada where Guam participated in the rescue of approximately 200 American citizens in Operation Urgent Fury. During her 10 days on station off Grenada, four airborne assaults were launched, two of which took place at night. During this action Guam served as the flagship for the operational commander, CJTF 120, providing logistic support for all U.S. military units involved in the operation. She also served as the principal casualty receiving ship, treating 76 wounded U.S. military personnel, civilians and prisoners of war without loss of life. Guam also served as a temporary detention facility for the captured leaders of the Marxist Grenadian Junta.
Following the space shuttle Challenger disaster in January 1986, Guam was dispatched off the coast of Florida. She was instrumental in the recovery of one of the rocket booster nose cones. The nose cone was loaded onto the flight deck and returned to NASA for inspection.
As Guam entered her final decade of service, she was deployed in August 1990 to support Operations Desert Shield and Desert Storm. During this eight-month deployment, Guam was part of the amphibious force that conducted an historic feint operation along the Kuwaiti coast that effectively neutralized thousands of defiant Iraqi forces waiting for a possible amphibious attack.
In January 1991, Guam departed the Persian Gulf and proceeded to Mogadishu, Somalia as part of Operation Eastern Exit. Following the evacuation of 282 American and other embassy personnel, Guam returned to the Persian Gulf and resumed its role in Operation Desert Storm.
In June 1994, Guam had the honor of representing the U.S. Navy in ceremonies commemorating the 50th anniversary of D-Day in Southhampton, England and Cherbourg, France.
In the spring and early summer of 1996, the Mighty Nine steamed off the coast of Monrovia, Liberia as flagship of Operation Assured Response while embarked Marines guarded the embassy compound. Guam's presence ensured the safety of U.S. embassy personnel working in a country ravaged by civil war.
During her final deployment from October 1997 to April 1998, to the Mediterranean Sea for numerous multi-national exercises, Guam was once again dispatched to the Persian Gulf on short notice. She was send to support U.S. military forces already present in the area for Operation Desert Thunder. This sudden deployment was in response to Iraqi refusal to comply with United Nations weapons inspections and threats to evict UN weapons inspectors. Shortly after the amphibious assault ship's arrival, Iraq agreed to comply, allowing full and unfettered access to all suspected weapons sites.
The USS Guam returned to her homeport for the last time on April 2, 1998. She was Decommissioned and stricken from the Navy list on August 25, 1998. Guam was disposed of as a target off the US east coast on October 25, 2001. The Sinkex was conducted by the USS John F. Kennedy (CV-67) Battle Group and the exact location was 031° 14' 22.0" North, 071° 16' 35.0" West.