USS Okinawa (LPH-3) History
USS Okinawa (LPH–3) was laid down on the 15th anniversary of the invasion of Okinawa at the Philadelphia Naval Shipyard, Philadelphia, Pa. and commissioned April, 14, 1962. Capt. William E. Lemos in command. The Okinawa was the second ship of the Iwo Jima Class LPH the original Landing Platform title was replaced by Amphibious Assault Ship (Helicopter). The LPH was planned and built for amphibious assault by the vertical envelopment method. The ship was designed to carry 25 helicopters based on the mission with the number of helicopters increasing with new upgraded models. The primary mission of the ship is to deliver a Marine Battalion with its weapons and support equipment to a battle area by helicopter. Now beach obstructions, flooded fields and poor terrain are vertically overcome. The Navy being big on multiple mission capabilities had a perfect platform to combine fleet missions that in the past had required their own ships. Combat leads to casualties so she was also a (MDS) Medical Duty ship with a hospital and medical personnel. Sailing into hostile shores with underwater mines it seems logical to support forces for a (MCS) Mine Countermeasures Ship. Being the largest and most equipped the LPH-3 became the (ATFCS) Amphibious Task Force Control Ship for the mission commander to administer the entire operation. The Iwo Jima Class had a power plant consisting of two boilers and one geared turbine which turned a single shaft with 22,000 shaft horsepower. Its armament included 3-inch twin barrel guns, the 20mm Vulcan/Phalanx Close-in Weapons System (CIWS), and a number of 50 caliber machine guns. The crew complement consisted of 50 officers, 650 enlisted personnel to support operations.
After completing her sea trials, Okinawa sailed from Philadelphia in June 1962 for her homeport, Norfolk. After a shakedown cruise out of Guantanamo Bay, Cuba she returned to Norfolk. The ship departed for her first fleet exercise in the Caribbean in mid October. Not too long Okinawa received the message from headquarters of the Cuban missile crises and was ordered to join the Cuban Quarantine till December 3, she then returned to Norfolk for needed corrective repairs discovered on the shakeout, after 30 days she was ready for fleet duty. Okinawa continued to cruse the Caribbean to train the crew and the marines with helicopter launching and recovery; she continued this deployment thru 1963 and into 1964. During June 1964 she sailed to New York for the World's Fair. When the gates opened for the fair 51 million people came to visit. Technology and progress was on display and into New York harbor arrived the USS Okinawa with her new technology and a couple thousand military visitors. After a goodwill stop in France and a visit to Plymouth, England, Okinawa arrived back in Norfolk at the end of November. In May 1965 she was directed to provide support to the area around the Dominican Republic during early may 1965. Dominican armed forces seized the Government radio stations in Santo Domingo and attempted to overthrow the ruling civilian junta in favor of deposed former president Juan Bosch. Accordingly, the U.S. Government, while trying to arrange for a cease-fire locally and through the OAS Organization of American States in Washington, began immediate preparations for the evacuation of its citizens and other foreign nationals who might wish to leave the Dominican Republic. Okinawa was perfect for this mission and flew missions in support as needed. In October 1964 she participated in operation, Steel Pike I, an amphibious exercise with NATO in Spanish waters that was larger than any previous war game. An amphibious force of 60 ships with 22,000 Marines and 5,000 vehicles, Okinawa played her part and the Soviets were watching.
Okinawa was transferred to the Pacific Fleet and sailed on January 24, 1967, for the West Coast, and arriving San Diego, her new home port on February 8th, all new on board where the next deployment would be. This was a busy time for families of the crew moving to a new home port across the country. Those who have lived the home front of military life understand and accept the packing and saying goodbye to friends. Okinawa left on March 10 1967 for her first deployment to Vietnam. On 13 April, while sailing from Okinawa to Taiwan, the ship was diverted by a distress call, and rescued 38 persons from the Panamanian vessel Silver Peak that had struck a reef and became grounded near the Sento Shosho Islands. While off Vietnam, Okinawa was a mobile base from which a well-equipped force of marines could quickly strike via helicopters at the Communist insurgents. While on station off Vietnam she was involved in Operation Hickory when NVA forces in the Khe Sanh and Cam Lo and Hill 158. She continued to support marine operations for 6 years. The techniques developed by the Okinawa demonstrated the amphibious assault can take place at virtually any point of the coast, making defending against them almost impossible.
| | |
| --- | --- |
| Vietnam War Campaigns: | Operation Code Name: |
| Vietnamese Counteroffensive - Phase II | |
| 18 to 19 April 1967 | |
| 18 to 31 May 1967 | |
| Vietnamese Counteroffensive - Phase III | |
| 1 to 12 June 1967 | |
| 27 June to 15 August 1967 | |
| 1 September to 1 November 1967 | |
| Vietnamese Counteroffensive - Phase VI | |
| 8 December 1968 to 26 January 1969 | Valiant Hunt, Bold Mainer |
| 12 to 22 February 1969 | |
| Tet/69 Counteroffensive | |
| 23 February to 30 March 1969 | Eager Pursuit I & II |
| 14 April to 27 May 1969 | Daring Rebel |
| Sanctuary Counteroffensive | |
| 25 to 28 June 1970 | |
| Vietnamese Counteroffensive - Phase VII | |
| 15 to 18 July 1970 | |
| 23 to 27 July 1970 | |
| 9 to 12 August 1970 | |
| 8 to 10 September 1970 | |
| 12 to 15 September 1970 | |
| 4 to 9 October 1970 | |
| 5 to 6 November 1970 | |
| 23 to 27 May 1971 | |
| Vietnam Ceasefire | |
| 27 April to 30 May 1972 | |
| 9 June to 2 July 1972 | |
| 9 July to 25 August 1972 | |
| 29 September to 1 October 1972 | |
| 5 to 20 October 1972 | |
| 21 to 22 November 1972 | |
On 4 April 1968, Okinawa took a break from combat operations in Vietnam and start a period of special training with NASA personnel to recover the last unmanned Apollo VI space capsule. The mission was designed as the final test before manned Apollo missions. The spacecraft was comprised of three stages, the Saturn V booster, the CSM command and service module and LM the lunar module. Problem during the flight occurred but the planned 175km orbit occurred. Reentry took place and Okinawa was on station 380 miles north of Kauai, Hawaii. The LM was recovered by Seals and lifted with a special harness by a MH-53E Sea Stallion and lifted to the deck of the Okinawa.
On July 26, 1971, USS Okinawa was called on its second recovery mission, Apollo 15 (the ninth manned mission in the Apollo program and the fourth mission to land on the Moon). NASA called it the most successful manned flight ever achieved. Commander David Scott and Lunar Module Pilot James Irwin spent three days on the Moon and a total of 18½ hours outside the spacecraft. The crew explored the area using the first Lunar Rover allowing them to travel much farther from the Lunar Module.At the same time, Command Module Pilot Alfred Worden orbited the Moon, using a Scientific Instrument Module (SIM) to study the lunar surface and environment. The failed parachute on re-entry was a great concern for all three astronauts' safety.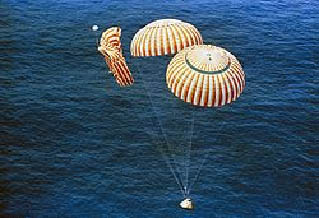 History has shown that at least one ship of the Iwo Jima Class had deployed in all major conflicts since the Vietnam War. The LPH proved itself to be a formable ship however the Navy saw the need for an amphibious assault ship with longer range, greater helicopter capacity and phased out the LPHs. Okinawa was decommissioned and stricken from the Naval Vessel Register on December 17, 1992. The ship was sunk as a target in a COMSUBPAC ship sinking exercise (SINKEX) on 6 June 2002, off the coast of Southern California in 2,020 fathoms after being struck by an Mk 48 torpedo from SSN – 707 Portsmouth.
Over the years USS Okinawa has consistently exhibited an impressive capacity for humanitarian service. In April 1975 Helicopters deployed from aboard the Okinawa evacuated the U.S. Ambassador to Cambodia from Phnom Penh along with 36 news correspondents and foreign nationals for 13 countries. She was also involved in Operation Frequent Wind, and evacuated over 1200 Americans from Saigon. As a result for success in these operations she was awarded the Navy Unit Commendation. She was also awarded the Philippine Presidential Unit Citation for the assistance she rendered to victims of Class #5 Typhoon Joan in 1970.
The USS Okinawa survived wars, typhoon, fires, and crashes, but could not elude age. She was decommissioned and stricken from the Navy list on December 17, 1992, the OKINAWA was disposed of as a target off the coast of southern California on June 6, 2002. The SINKEX was conducted at 031° 27' 03.0" North, 119° 42' 63.0" West by the USS PORTSMOUTH (SSN 707) using a MK-48 ADCAP torpedo.
Military Awards received in her valiant service to the United States of America:
Combat Action Ribbon (2) - Navy Unit Commendation (5)
Navy Meritorious Unit Commendation (3) - Navy Battle "E" Ribbon - Navy Expeditionary Medal (1 Cuba, 2 Iran/Indian Ocean)
National Defense Service Medal - Armed Forces Expeditionary Medal (1 Cuba, 1 Dominican Republic, 1 Op. Eagle Pull, 1 Op. Frequent Wind, 2 Persian Gulf) - Vietnam Service Medal (7)
Southwest Asia Service Medal - Humanitarian Service Medal (1 Eagle Pull, 1 Frequent Wind) - Philippines Presidential Unit Citation
Republic of Vietnam Gallantry Cross Unit Citation (5) - Republic of Vietnam Campaign Ribbons - Kuwait Liberation Medal